Lines Mode
Left / Right - Right / Left
Wild

Free spins

Bonus game

GAME DESCRIPTION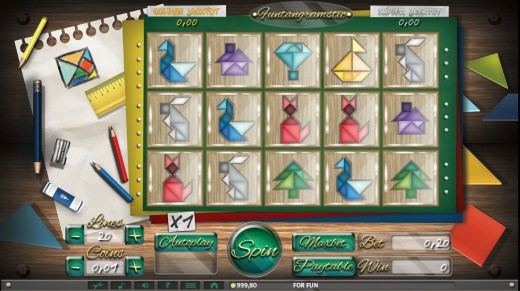 Do you know the Tangram game? It is an ancient Chinese game also known as "The Seven Stones of Wisdom" since understanding its secrets was said to confer great wisdom. Funtangramstic takes inspiration precisely from the art of Tangram. The pieces of the Tangram have very precise shapes: right-angled isosceles triangles, a square and a parallelogram. The game consists of trying to form recognizable shapes (animals, people, objects…) using all seven pieces through their translation, rotation and overturning.
By turning the reels of the slot, the various compound figures will be formed, such as swans, rabbits, houses, boats, fish, cats, trees, diamonds. Funtangramstic is a game for those who love to hone their creative intelligence!
GAME SPECIFICATIONS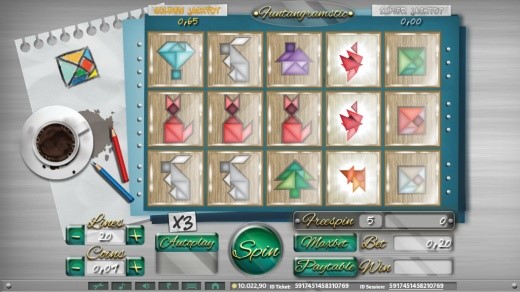 Game Type:

Video slot

Pay lines:

20

Lines mode:

Left > Right 

Right > Left

Wild:

Yes

Freespin:

Yes

Bonus Game:

No

Volatility:

Medium (3,24)

Total RTP: 

96,30%

Desktop:

Yes

Mobile:

Yes

Languages:

Italian, English, French,

Spanish, Portuguese
FEATURES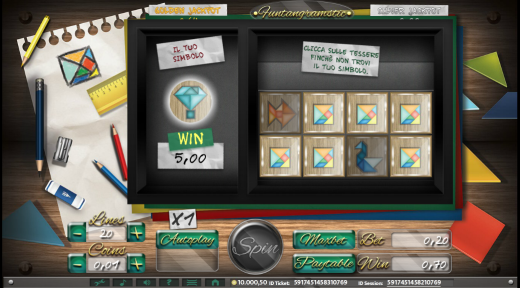 Wild Symbol: Wild Symbols substitute for all the symbols except scatter and game
Bonus Symbol: Bonus Game symbols can appear on reels 2, 3 and 4. 3 Bonus Game symbols activate the game with the possibility of further wins. The game is activated only if there are no other bonuses in progress.
Scatter Symbol: Scatter symbols can appear on all reels. 3, 4, 5 Scatter symbols award free spins as indicated in the PayTable. The combinations of Scatters activate the Multipliers according to the following table:
     3 Scatter:   X2     
4 Scatter:   X3
5 Scatter:   X5